Events & Newsletters
SAVE THE DATES!!
VENDORS WANTED for Sunday, August 27!!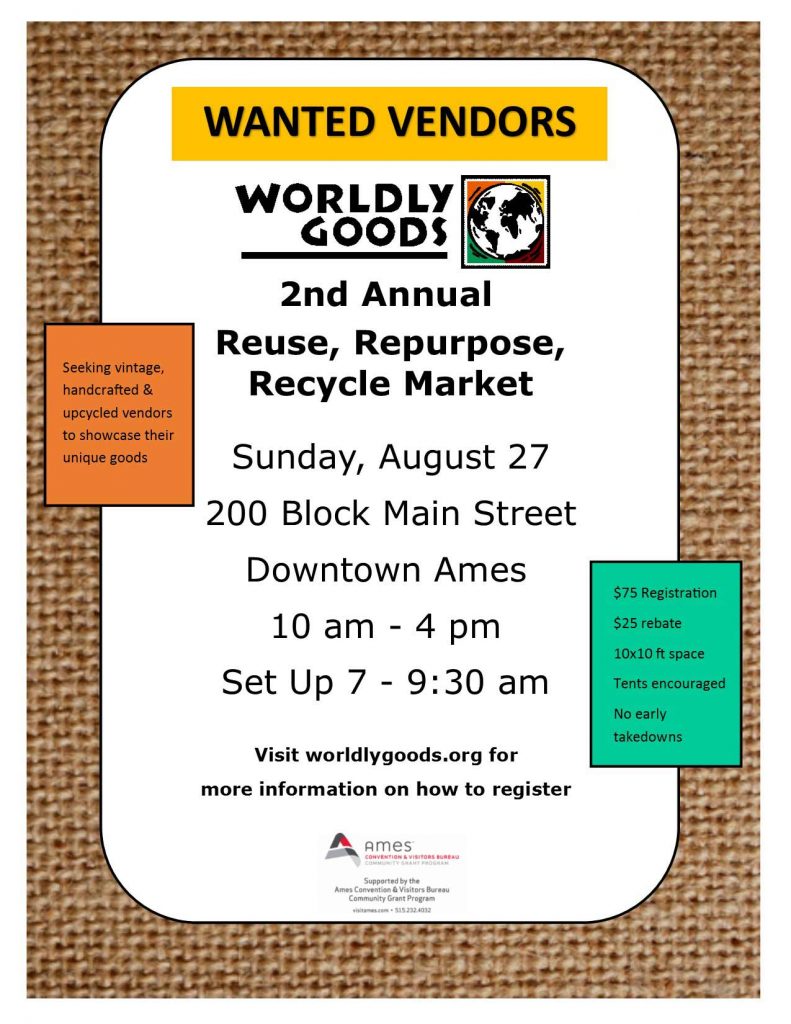 Worldly Goods 30th Anniversary Dates
March 11, 2017- International Women's Day Celebrated with a free gift along with Scarf & Sarong Tying Demonstrations, 10 am – 5 pm at Worldly Goods
April 26, 2017- Worldly Goods & Ames Public Library Present "A Powerful Noise", 7 pm, 515 Douglas Ave
April 28-29, 2017- Maggie's Organics Ladies Night Out Trunk Show, American Legion Community Room (Right Next Door to Worldly Goods)
May 13, 2017- Celebrate World Fair Trade Day with Worldly Goods
July 7, 2017- Worldly Goods Fair Trade Wine Tasting with Wheatsfield, 5-7 pm at Worldly Goods
August 27, 2017- Worldly Goods 2nd Annual Reuse, Repurpose, Recycle Market, 10 am – 4 pm, 200 Block of Main Street
October 8, 2017- Worldly Goods Past & Present Volunteer Celebration (Reservations Required, Please Contact the Store)
2017 Newsletters
Wine Tasting & Global Mamas Trunk Show with Worldly Goods
Celebrate International Women's Day
Sign up for our newsletter for regular updates!